February 22, 2006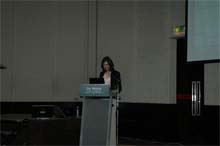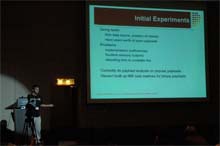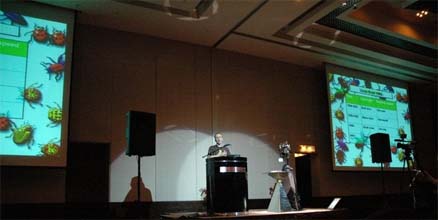 The list of speakers will be updated from time to time as more additions are made. Our Call for Papers will end on the 1st of May 2006 so do send in your submissions before then.
HITBSecConf2006 - Keynote Speakers
1.) Bruce Schneier (Chief Technology Officer, Counterpane Internet Security)
2.) Mark Curphey (Vice President, Foundstone Professional Services - A division of McAfee Inc.)
3.) John Viega (Chief Security Architect, McAfee Inc.).
HITBSecConf2006 - Speakers (alphabetical order)
1.) Anthony Zboralski (Founder, HERT & PT. Bellua Asia Pacific)
2.) Arnaud Ebalard (Security Research Engineer, EADS Corporate Research Center)
3.) Carlos Sarraute (Senior Researcher, Core Security Technologies)
4.) Ching Tim Meng (Regional Security Consultant, Lucent Worldwide Services)
5.) Douglas MacIver (Penetration Engineer, Microsoft Penetration Team, Microsoft Corporation)
6.) Fabio Ghioni (Independent Advisor to various MNCs and Government organizations)
7.) Fabrice Marie (Manager, FMA-RMS Singapore/Malaysia)
8.) Fyodor Yarochkin (Co-Author, XProbe)
9.) Ian Hellen (Security Program Manager, Windows Security Engineering Team, Microsoft Corporation)
10.) Javier Burroni (Senior Developer of Core Impact, Core Security Technologies)
11.) Jim Geovedi (Member of HERT & Security Consultant, PT Bellua Asia Pacific)
12.) Joanna Rutkowska (Senior Security Researcher, COSEINC)
13.) Jonathan Limbo (Security Researcher, Cisco Systems)
14.) Lisa Thalheim (Independent Network Security Consultant)
15.) Marc Schonefeld (Independent Network Security Consultant)
16.) Meder Kydyraliev (Co-Author, XProbe)
17.) Michael Davis (Member, The Honeynet Project.)
18.) Nguyen Anh Quynh (PhD student of Keio university, Japan)
19.) Nish Bhalla (VP Consulting Solutions, Security Compass)
20.) Paul Boehm (Founding member of TESO Security, Security Consultant, SEC Consult)
21.) Philippe Biondi (Research Engineer at EADS Corporate Research Center)
22.) Raditya Iryandi (Information Security Consultant, Bellua Asia Pacific)
23.) Raoul Chiesa (Board of Directors Member@ Mediaservice.net ISECOM Group & TSTF)
24.) Roberto Preatoni (Founder, Zone-H Defacement Mirror)
25.) Rohyt Belani (Director, Mandiant)
26.) Saumil Shah (Director, Net-Square)
27.) Thorsten Holz (HoneyNet Project Germany, Independent Network Security Researcher)
28.) The Grugq (Independent Network Security Researcher)
29.) Van Hauser (Founder, THC.org and Security Consultant at n.runs GmbH)
30.) Vishal Kumar (Security Program Manager, Secure Windows Initiative Team, Microsoft Corporation)
31.) Wes Brown (Founder, Ephemeral Security)
32.) Window Snyder (Chief Security Something-or-Other, Mozilla Foundation)
33.) Yen Ming Chen (Senior Managing Consultant, Foundstone - A division of McAfee Inc.)