3-DAY TRAINING 1 – RF HACKING WITH SDR FOR PHYSICAL INTRUSION SYSTEMS
DELIVERY:

RESCHEDULED TO HITB2021SIN IN AUG
DATE: 24, 25 & 26 May 2021
TIME: 09:00 to 17:00 CEST/GMT+2
Price: USD3299
---
Receive an SDR kit + bonus one-hour 1:1 consultation on hardware and radio with trainer!
---
Overview
In this 3-day live and interactive training, students will learn about Software-Defined Radio applied to security, and will get survival reflexes and methods to test real-world radio devices such as intercoms, alarms, various remotes and other IoT systems.
Comparing to other courses that teach how to use public tools, this class is more about understanding how these tools work and also how to build proper tools to analyze and attack targeted systems. All techniques here will demonstrate real uses-cases encountered in pentests and Red Teams, but also techniques that aim to be applied to future systems, by teaching important steps when dealing with unknown targets.
Key Learning Objectives
Learn how radio works and about actual technologies using this interface
Find and analyze a signal
Modulate and demodulate a signal
Encode and decode data meant to be transported over-the-air
Capture, generate, replay and analyze a signal
Interface with a signal using SDR devices and software
Get primary reflexes to attack embedded and IoT systems
Create your own tools with the GNU Radio framework and its alternatives
Learn how to use SDR and classical attacks on mobile 2G/3G/4G, sub-GHz remotes/alarms, and other similar or custom technologies
Who Should Attend
Security researcher and consultant interested in hardware and wireless
Developers in embedded systems who want to secure their devices
Radio enthusiasts who want to learn applied security using SDR
What Students Say About This Training
– Loads of practical exercises and a good opportunity to master GNU Radio and apply it to hacking.
– It's a bit intense because there are a lot of things to learn in a short period of time, but that also gives us a lot of ideas to continue hacking real-world devices with the provided kit.
Prerequisite Knowledge
Knowledge of Linux and a programming language such as C, C++, C# or Python is necessary.
Understanding of pentesting (network and applications) or Red teaming
Basic knowledge of radio is not mandatory but is a plus
A microphone or a headset to interact during the course
Hardware / Software Requirements
All attendees will need a machine capable of running VMware virtual machine (8GB of RAM is a minimum)
Location: Training Rooms
Date: May 24, 2021
Time: 9:00 am - 5:00 pm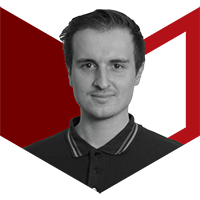 Sébastien Dudek
UP